Lunate and perilunate dislocations
A weekend warrior trying to finish up painting that last side of the house takes a tumble off his ladder and lands on his left hand.  He has a palpable deformity on the volar aspect of the distal radius and painful active and passive ROM but is otherwise neurovascularly intact with no median nerve neuropathy.  The following x-ray is obtained: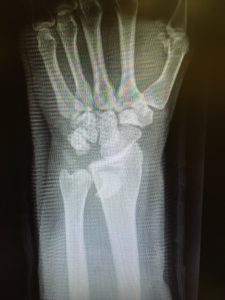 You realize something is not where it's supposed to be!  The patient has a lunate dislocation to the point where it has migrated proximally to the forearm.  After attempts at closed reduction by the Orthopedist, a CT is obtained which shows associated triquetral fracture and improved position of the lunate.  The patient is admitted and scheduled for open reduction and repair of intercarpal ligaments in the OR.
Lunate and perilunate dislocations come in a variety of shapes and sizes but the orthopedists organize them into 4 different stages of instability that we'll go over here.
---
Stage 1 instability: Scapholunate dissociation 
---
Typically these patients FOOSH'd onto their wrist sustaining the injury with minimal swelling and pain on physical exam.  On xray we are looking for widening of the scapholunate space of > 2-4mm which is our indication that there has been disruption of the ligament.  You'll hear the term, the "Terry Thomas" sign to describe the gaping of the metacarpals similar to his teeth.  Depending on the orthopedist these can be managed conservatively with a sugar tong splint or operatively.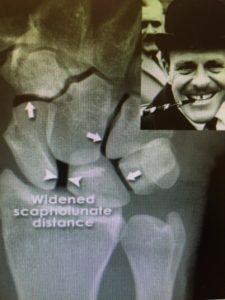 ---
Stage 2 instability: Perilunate dislocation 
These injuries will typically be a higher mechanism of injury with more significant physical exam findings than the stage 1's we just discussed.  On x-ray you'll notice that the lunate remains aligned with the distal radius while the remaining carpal bones are displaced, usually dorsally.  Most of the time these are going to need a CT to look for any radiooccult fractures of the scaphoid and radial styloid.  These will need operative management to prevent any of the nasty sequelae of median nerve palsy, compartment syndrome, long term wrist dysfunction, etc.
---
Stage 3 instability: Midcarpal dislocation
---
These are going to have a similar mechanism of injury but result in disruption of the triquetrolunate ligament or a triquetral fracture. The radiographs will show neither the capitate or lunate aligned with the distal radius.  You're going to need ortho for this one.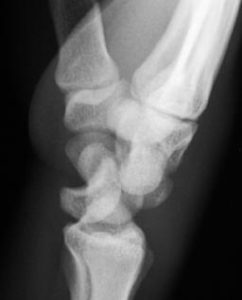 ---
Stage 4 instability: Lunate dislocation
These aren't known to be the most common, but they are more severe.  The differentiating factor between this and a perilunate dislocation is that the lunate and distal radius articulation is preserved in perilunate dislocation, but not so in lunate dislocations.  On the AP film you'll see the "piece of pie" sign (below, left) and on the lateral you'll see the "spilled teacup" (below, right).  This is yet another one that you're going to get ortho involved with pretty early on for an urgent reduction and operative management.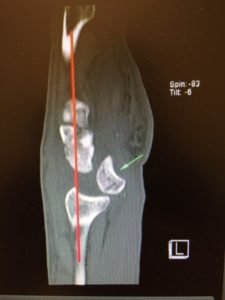 We talk a lot about those pesky radiooccult scaphoid fractures and have seen enough distal radius fractures to make us physically ill, but there's a lot more that can go wrong in the wrist.  These are, for the most part, relatively apparent injuries that have devastating consequences if missed.  So get ortho involved early in these cases so the patient can receive the treatment they need.
Post by: Katrina D'Amore DO, MPH