Cardiology
UMEM Emergency Cardiology Symposium PEARLS

View the recorded lectures here: https://livestream.com/UMEmergencyMed/EMCard2018
---
LBBB and Chest Pain in Acute MI…What Should I Do?
Dr. William Brady – University of Virginia
Patients with new LBBB on EKG is not common in the setting of Acute MI (AMI). It is, however, the most common pseudo-infarction pattern.
80% of AMIs with LBBB are not detectable by ECG
Rational approach to AMI in patients with LBBB: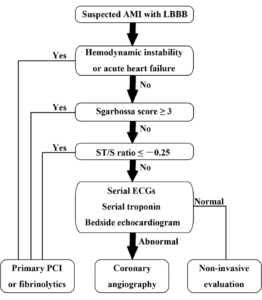 https://pdfs.semanticscholar.org/f80b/9983005179f4718bb1326963c722d4f80e58.pdf
---
Wonder Women: Exploring the Gender Gap in ACS
Dr. Susanne DeMeester – University of Michigan
Average age of women presenting with ACS is 71. This age lags men by about 7-9 years.

Women have a higher 1 and 5 year post ACS mortality compared to men
20% of women with acute STEMI on their ECG will have a clean cath

Cardiac microvascular dysfunction more common in women

Smaller epicardial vessels
Increased stiffness
Smooth muscle dysfunction

Rupture embolic plaque causing STEMI more common in men
Coronary vasospasm equal between men and women

NSTEMI is more common in women

Dyspnea is the most common angina presentation in women and geriatric patients (not chest pain!)

Women more likely to complain of chest "discomfort" rather than "chest pain" or "chest pressure"

Women have additional risk factors that have a greater association with ACS:

Depression, anxiety, psychosocial environment

Women with low risk HEART Score have lower risk of 6 week major acute cardiac event (MACE) compared to men (2% vs 6.5%).

Women have a smaller degree of ST elevation in acute STEMIs compared to men and are likely to produce lower levels of troponin.

Remember the diagnosis of spontaneous coronary artery dissection (SCAD) in the young peripartum woman

Risk factors include pregnancy, OCPs, vascular and connective tissue disorders
High recurrence rate ~20%

Fibrinolytics in ACS – Women are more likely to bleed

Women historically have had delays to treatment, and have received non-guideline treatment: Be careful to recognize and appropriately treat ACS in men and women
---
"Un-Break My Heart": 2018 NSTEMI Updates
Dr. Tarlan Hedayati – Cook County, Chicago
---
The Crashing Kid
Dr. Mimi Lu – University of Maryland
---
Diuretics in Acute Heart Failure: The Dark Side of the Force?
Dr. Peter Pang – Indianapolis EMS
Treatment of heart failure has not changed much over the past 40 years

Only additions are use of inotropes and nesiritide (recombinant BNP)

Patient outcomes have only slightly improved over past 40 years
DOSE trial (2011)

No difference in patient outcomes using bolus vs. infusion of Lasix

Doubling (2-2.5x) the dose of patients home dose of Lasix

( continuing patients home dose) was associated with better symptom improvement and increased weight change at 72 hours. However there was no difference in mortality, hospital readmission, or ED visit. And there was increased risk of worsening renal failure with the higher dose.

Best practice appears to be doubling the oral dose of Lasix. You achieve better sx improvement and better urine output. 

You may get a bump in the Creatine but this doesn't seem to be worrisome as the patients do well.

Prospective Cohort Study ~1300 pts.  Loops that were given

within 60 mins

of arrival have less in Hosp mortality then delayed therapy.

This study is suggestive that early therapy may benefit and is at least safe.

Will need more studies to duplicate this finding.
The addition of captopril to combat the RAA system does not have sufficient evidence out at this time to recommend it.
---
The Evidence For and Against Epinephrine in CPR
Dr. Corey Slovis – Vanderbilt
Epi is a potent alpha and beta agonist

The evidence for use of epinephrine in cardiac arrest is weak and incomplete!

The case for or against epinephrine in CPR is embarrassingly not based on large randomized double-blind studies
Its use stems from a 1968 JAMA study on the use of epi in cardiac arrest of n=15 dogs
There is not good objective evidence, in controlled studies, that epinephrine is more effective than placebo

"High dose" epinephrine, of more than 1 mg per dose, significantly improves ROSC but not survival to discharge

The more you look into the data, the more higher dose of epinephrine looks bad
Also, reduced dose of epinephrine appears to offer no benefits

Early v. late use of epinephrine in cardiac arrest

Use epi as soon as possible

(until its effectiveness is proven or disproven)

However, if patient is in VF/pVT, data supports waiting for the second shock prior to giving epi (better outcomes when compared to using after the first shock)

Try to space your repeat doses of epinephrine by longer intervals, not shorter ones

ACLS recommends epinephrine q3-5 min
It appears spacing

doses out up to 8-10 minutes may be optimal

, however this is a violation of current guidelines and no randomized study exists

Err on spacing out closer to the q5 minute mark

Epi given in shockable rhythms was 1/3 as effective in those patients that did not get epi in a post hoc analysis of a large trial (12% vs 32%)

Resuscitation 2018: 2255 pts got low dose epi in out-of-hospital cardiac arrest (0.5 mg).  Reduced dose didn't cause a difference.
There is a London study coming out soon over >8,000 patients comparing epi vs. no epi for OHCA – should provide some useful information for use of epi in cardiac arrest.
---
Panel Discussion