Source: EM Practice Podcast – Dec 2017
** There are no existing ACEP guidelines on this topic.
---
Pre-Hospital Management
Stabilizing and pain control
Neurovascular compromise

If suspected then d/w med control for considerate of immediate reduction and splinting vs. rapid transport to ED
If no suspicion the patient can be immobilized in current position

Don't forget C-spine precautions as these injuries are often distracting
---
Overview
Etiology:
Typically traumatic in origin
Over 2/3 Hip dislocations occur in patients who present after MVCs without seat belts with the knee hitting the dashboard and the body moving forward over a fixed femur.

Often associated with posterior wall/lip fractures of the acetabulum
---
Definitions:
Simple vs. Complex

Simple Dislocation – does not involve fracture
Complex Dislocation – involves fracture
---
Pathophysiology:
Posterior & Inferior dislocations are most common – about 90% of dislocations
Fracture of >40% of the acetabular rim is considered an UNSTABLE FRACTURE (requires ORIF)

If there is a posterior acetabular fracture you must get a CT to eval for unstable fractures

Sciatic nerve injury

Seen in about 14% of traumatic hip dislocations
Check sensory along the posterior leg, ability to dorsiflex the ankle and ankle reflexes

95% of traumatic hip dislocations will have another associated injury

Be sure to complete a full trauma survey on these patients per ATLS guidelines
---
Imaging
Initial image should be a bedside AP pelvic radiograph
Look for Shenton's Line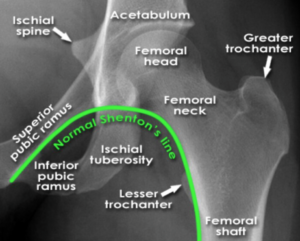 Lateral film can seal the diagnosis if unsure based on initial bedside AP
CT if neeeded
---
Treatment for Native Hips (non-prosthetic)
Consultation
Ortho Consultation are required for the following:

Complex hip dislocations
Irreducible dislocations
Non-concentric reductions
Neurovascular deficits despite reduction
---
Reductions
Who:
– Simple dislocations can & should be reduced by the ED physician!
When:
– Reduction should be performed within 6 hours of injury to decrease risk of avascular necrosis
– No more than 3 attempts at reduction should be made by the ED provider
Transfers:
– If patient requires transfer to a different hospital, an attempt at reduction should be made by the ED provider.
– Patients transferred without reduction had a 4-fold risk of severe sciatic nerve compared to those transferred after reduction (16% vs 4%).
Analgesia:
– Be sure pain is controlled prior to attempting reduction
Ultrasound guided fascia iliaca compartmental block work great

Reduces need for systemic analgesics
Improves patient comfort
Increases likelihood of successful reduction
Reduce need for procedural sedation
Be sure to have completed a full neurological exam prior to blocking your patient
LINK TO VIDEO
In many cases, procedural sedation and systemic analgesia may also be needed (in addition to nerve block) in order to adequate pain control and muscle relaxation.
---
Reduction Techniques
Old School:
Allis's Maneuver
Newer techniques:
Captain Morgan
Over-Under/Whistler
East Baltimore Lift
No evidence exists to recommend one technique over the other.
---
Immobilization
After successful reduction the hip should be immobilized in extension and external rotation with slight abduction
– Use an abduction pillow to help hold this position
– Knee immobilizer can be used if no abduction pillow is available
Don't forget to obtain a post reduction film to confirm alignment
---
Other Recommendations
– Early passive range of motion and rehab is usually recommended
– Patients should remain non-weight bearing until seen by orthopedic services.
---
Notes on Prosthetic Hip Dislocations
Quite common

Incidence of ~2% of patients who undergo THA
60% occur within first 3 mo, 77% occur within the first year

Often the result of minimal force like bending over to pick something up off the floor
Use the same techniques as a native hip reduction
Do not need abduction bracing after the reduction
If the patient can walk after the reduction, they can be safely discharged (after discussion with their orthopedist)
Less urgency, no risk of avascular necrosis as the femoral head has already been replaced
Remember, these injuries are painful and although less urgent, the reduction should occur as soon as possible
---