View the recorded lectures here: https://livestream.com/UMEmergencyMed/EMCard2018
---
LBBB and Chest Pain in Acute MI…What Should I Do?
Dr. William Brady – University of Virginia
Patients with new LBBB on EKG is not common in the setting of Acute MI (AMI). It is, however, the most common pseudo-infarction pattern.
80% of AMIs with LBBB are not detectable by ECG
Rational approach to AMI in patients with LBBB: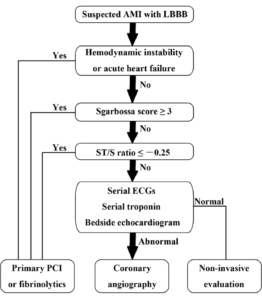 https://pdfs.semanticscholar.org/f80b/9983005179f4718bb1326963c722d4f80e58.pdf
---
Wonder Women: Exploring the Gender Gap in ACS
Dr. Susanne DeMeester – University of Michigan
Average age of women presenting with ACS is 71. This age lags men by about 7-9 years.

Women have a higher 1 and 5 year post ACS mortality compared to men
20% of women with acute STEMI on their ECG will have a clean cath

Cardiac microvascular dysfunction more common in women

Smaller epicardial vessels
Increased stiffness
Smooth muscle dysfunction

Rupture embolic plaque causing STEMI more common in men
Coronary vasospasm equal between men and women

NSTEMI is more common in women

Dyspnea is the most common angina presentation in women and geriatric patients (not chest pain!)

Women more likely to complain of chest "discomfort" rather than "chest pain" or "chest pressure"

Women have additional risk factors that have a greater association with ACS:

Depression, anxiety, psychosocial environment

Women with low risk HEART Score have lower risk of 6 week major acute cardiac event (MACE) compared to men (2% vs 6.5%).

Women have a smaller degree of ST elevation in acute STEMIs compared to men and are likely to produce lower levels of troponin.

Remember the diagnosis of spontaneous coronary artery dissection (SCAD) in the young peripartum woman

Risk factors include pregnancy, OCPs, vascular and connective tissue disorders
High recurrence rate ~20%

Fibrinolytics in ACS – Women are more likely to bleed

Women historically have had delays to treatment, and have received non-guideline treatment: Be careful to recognize and appropriately treat ACS in men and women
---
"Un-Break My Heart": 2018 NSTEMI Updates
Dr. Tarlan Hedayati – Cook County, Chicago
Not all elevated troponin equals ACS

PE, dissection, myocarditis, pericarditis
History and clinical context are extremely important

Some NSTEMIs will have complete vessel occlusion (~25% of the time)

These patients are more likely to have higher troponins

Main risk factors for ACS: HTN, DM, Hypercholesterolemia (including HDL<40), Family Hx, Tobacco use

Others risk factors: Cocaine abuse, HIV/AIDS, ESRD, SLE, RA, stress, exogenous testosterone

Clopidogrel (Plavix: pro-drug, needs activation) vs. ticagrelor (Brilinta: works immediately)

PLATO trial

Lower risk of MACE with Brilinta

No difference in bleeding complications between two groups

Lovenox vs Heparin

No major differences in outcomes

Consider using Heparin if patient will be going for upcoming catheterization

Three options of NSTEMI management

Ischemic guided (conservative management)

Wait, trend troponins and serial EKG
Better for low risk patients

Immediate invasive (Cath ASAP, should be within 1-2 hours)

Patients with: refractory angina, recurrent angina, sustained Vtach/Vfib, or those who are clinically or hemodynamically unstable

Routine invasive (cath within 24-72 hours)

Early (cath within 24 hours)

Patients with dynamic EKG changes, new ST depressions or rising troponins

Late/delayed (within 72 hours)

Patients with DM, CKD/ESRD, LVEF < 40%, CABG/PCI within last 6 months, patients who are post recent MI with chest pain

TIMACS study

Benefit with early cath only seen with high risk patients
---
The Crashing Kid
Dr. Mimi Lu – University of Maryland
There are 1 million adults with congenital heart defects.

60% of congenital defects are missed on prenatal ultrasounds

Clinical findings of pediatric patients with congenital heart defects:

Central cyanosis, diastolic murmurs, delayed or difference pulses

Hepatomegaly is more common physical exam finding

in pediatric patients with CHF (more common than lower extremity edema which is typically seen in adults)
Grunting = BAD in children

Cyanosis, poor feeding and/or tachypnea in first 7-14 days

Think sepsis, sepsis, sepsis (most common cause)

But also consider if this is a ductal dependent lesion

Typically present within the first

2 weeks of life

Hyperoxia test – check ABG on RA à apply 100% FiO2 for 10-15 min à recheck ABG

If PaO2 > 150mmHg = Lung problem
If PaO2 < 150mmHg = Cardiac problem

Quick and dirty hyperoxia test

Apply supplemental O2
If sats increase at least 5-10% = think Lung problem

If sats remain the same = think Cardiac problem

Workup

EKG – look for hypertrophy, abnormal axis, arrhythmias
CXR – look for cardiomegaly or pulmonary edema

It can be difficult to appreciate cardiomegaly in neonates (because of thymus, etc.)

Get a lateral film and use the anterior tracheal line to help determine if cardiomegaly

line parallel to anterior tracheal wall inferiorly to diaphragm – should NOT intersect heart; should NOT be pushed back to "hit" spine above diaphragm

Labs

BNP literature is weak, but can be considered

Initial Management of the Congenital Heart Disease pediatric patient

IV fluids – 10cc/kg

Maintain SpO2 80-85%

Prostaglandin (PGE-1) if considering ductal dependent lesion

Dose is 0.1mcg/kg/hr

Works within 10-15 minutes
Side effects:

apnea

, hypotension, fever
Historically most pts receiving PGE-1 are intubated however recent data supports watch and wait to see how the patients respond, but have RSI equipment ready

If transferring the patient to another facility after starting PGE-1 you should secure airway to avoid pt becoming apneic en route

Inotropes if shock (did not get into detail on which to use)
Furosemide if pulmonary edema (1mg/kg/dose)
Make sure to check blood sugar
Correct acidosis – early bicarb!
Optimize ionized calcium 
---
Diuretics in Acute Heart Failure: The Dark Side of the Force?
Dr. Peter Pang – Indianapolis EMS
Treatment of heart failure has not changed much over the past 40 years

Only additions are use of inotropes and nesiritide (recombinant BNP)

Patient outcomes have only slightly improved over past 40 years

Current data:

75% = 5 yr mortality for patients admitted for CHF

22% = 30 day rehospitalization rate of patients admitted for CHF
8% = 30 day mortality for patients admitted for CHF

DOSE trial (2011)

No difference in patient outcomes using bolus vs. infusion of Lasix

Doubling (2-2.5x) the dose of patients home dose of Lasix

( continuing patients home dose) was associated with better symptom improvement and increased weight change at 72 hours. However there was no difference in mortality, hospital readmission, or ED visit. And there was increased risk of worsening renal failure with the higher dose.

Best practice appears to be doubling the oral dose of Lasix. You achieve better sx improvement and better urine output. 

You may get a bump in the Creatine but this doesn't seem to be worrisome as the patients do well.

Prospective Cohort Study ~1300 pts.  Loops that were given

within 60 mins

of arrival have less in Hosp mortality then delayed therapy.

This study is suggestive that early therapy may benefit and is at least safe.

Will need more studies to duplicate this finding.
The addition of captopril to combat the RAA system does not have sufficient evidence out at this time to recommend it.
---
The Evidence For and Against Epinephrine in CPR
Dr. Corey Slovis – Vanderbilt
Epi is a potent alpha and beta agonist

The evidence for use of epinephrine in cardiac arrest is weak and incomplete!

The case for or against epinephrine in CPR is embarrassingly not based on large randomized double-blind studies
Its use stems from a 1968 JAMA study on the use of epi in cardiac arrest of n=15 dogs
There is not good objective evidence, in controlled studies, that epinephrine is more effective than placebo

"High dose" epinephrine, of more than 1 mg per dose, significantly improves ROSC but not survival to discharge

The more you look into the data, the more higher dose of epinephrine looks bad
Also, reduced dose of epinephrine appears to offer no benefits

Early v. late use of epinephrine in cardiac arrest

Use epi as soon as possible

(until its effectiveness is proven or disproven)

However, if patient is in VF/pVT, data supports waiting for the second shock prior to giving epi (better outcomes when compared to using after the first shock)

Try to space your repeat doses of epinephrine by longer intervals, not shorter ones

ACLS recommends epinephrine q3-5 min
It appears spacing

doses out up to 8-10 minutes may be optimal

, however this is a violation of current guidelines and no randomized study exists

Err on spacing out closer to the q5 minute mark

Epi given in shockable rhythms was 1/3 as effective in those patients that did not get epi in a post hoc analysis of a large trial (12% vs 32%)

Resuscitation 2018: 2255 pts got low dose epi in out-of-hospital cardiac arrest (0.5 mg).  Reduced dose didn't cause a difference.
There is a London study coming out soon over >8,000 patients comparing epi vs. no epi for OHCA – should provide some useful information for use of epi in cardiac arrest.
---
Panel Discussion
RBBB does not prevent our ability to read an EKG like the LBBB does. You just have to look closely for the st elevation in that it can be more subtle. New RBBB in setting of an acute Mi is a bad prognostic sign.
Small group of pts who had pacers were studied with Sgarbossa criteria thus far. Seemed applicable to date.

Bigger study by Dr Smith to be out soon that further looks into application of Sgarbossa criteria to paced individuals.

No data on continuous drip of epi verses bolus dose epi in cardiac arrest although some centers are doing this.
Cardiac Arrest with ROSC + NSTEMI – Should be indication for emergent cath (Also, Arrest with ROSC plus any of following: witnessed arrest with bystander CPR, initial rhythm VF/pVT)